Risotto is an Italian dish, and there are many ways to cook it. There are hundreds of ways to cook risotto. Many things go well with rice, like mushrooms, zucchini, peas and carrots, tomatoes, chicken, meat, seafood, bell pepper, etc. Today, I decided to cook risotto with pumpkin. The dish is creamy and has a slightly sweet taste.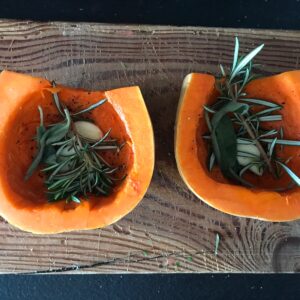 Pumpkin Risotto
Amazing delicious, comforting meal full of autumn flavours
Ingredients
180

gr

rice

350

gr

pumpkin

2

cloves

garlic

pepper

olive oil

1

small onion

2

glasses

water

rosemary

parsley
Instructions
Wash the pumpkin and cut it in half.

Place a sprig of rosemary, salvia and pour an oil.

Wrap the pumpkin in foil and bake in the oven for 40-45 minutes, at 200.

Pour oil into a large pan, add diced onion and fry for 1 minute.

Add rice and fry it a little, then add water and cook until fully cooked.

When the pumpkin is cooked, pick the pulp out of it with a spoon and add to the cooked rice.

Mix everything and place on a serving plate.
With rosemary and salvia plant, the risotto has a very pleasant taste. The pumpkin must be well cooked, so that the consistency is creamy. And the cooking time may depend on the thickness of the pumpkin. Also cook risotto according to the recipe of other chefs – please, check some inspirational recipes here.
If you love Italian food, visit Italian section of this website or click on this link to learn how to make gnocchi.