As I gaze out the window, I can feel the scorching sun bearing down on the world outside. The relentless heat calls for something refreshing to cool me down and brighten my day. Suddenly, an idea pops into my head – why not create a delicious peach sorbet? With the perfect blend of juicy peaches and zesty lemon, this homemade treat is sure to be the ultimate remedy for beating the summer heat. Join me on this delightful journey as I take you through the simple steps of creating a chilled and delightful peach sorbet!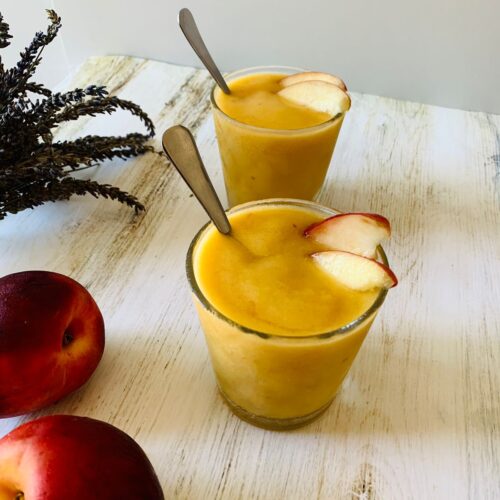 Homemade Peach Sorbet Recipe: A Refreshing Summer Treat
Learn how to make a delicious and refreshing peach sorbet at home with this simple recipe. Chop fresh peaches and let them chill in the fridge for 5-6 hours, then blend them until smooth. Mix in water, stevia, and lemon juice, blending again for a perfect sorbet consistency. Transfer the mixture to glasses and let it chill in the fridge for an additional 1-2 hours before serving. Enjoy a delightful homemade peach sorbet to beat the summer heat!
Ingredients
400

g

peaches

1

cup

of water

4

tbsp

lemon juice

sugar, if needed
Instructions
Chop the peaches and put them im the fringe for 5-6 hours

Blend them in the blender

Pour water in the glass, add sugar and lemon juice. Stir it and pour in the blender. Now blend it again.

Transfer the sorbet in the glasses and put in the fringe for 1-2 hours
Ah, what a rewarding experience it has been! The moment I took my first spoonful of the homemade peach sorbet, I knew I had created a summer masterpiece. The blend of fresh peaches, tangy lemon juice, and a hint of stevia has resulted in a delightful burst of flavors that simply melt in my mouth. As I savor every bite, the sorbet's coolness brings instant relief, making this a perfect treat for any hot day. Now, I can't wait to share this easy peach sorbet recipe with my loved ones and let them relish the delightful taste of this chilled summer delight!