Enjoy the taste of focaccia, a traditional Italian flatbread with a delectable taste that has been enjoyed for centuries. Its soft and airy texture makes it perfect for snacking or as an accompaniment to any meal. The combination of fragrant rosemary and savory olives gives focaccia a unique flavor that bursts with aromatic and delicious tastes in every bite.
Focaccia is a versatile and delicious culinary masterpiece that has won over the hearts and palates of food enthusiasts worldwide. Whether enjoyed as a snack or paired with a meal, its irresistible taste and texture will keep you coming back for more.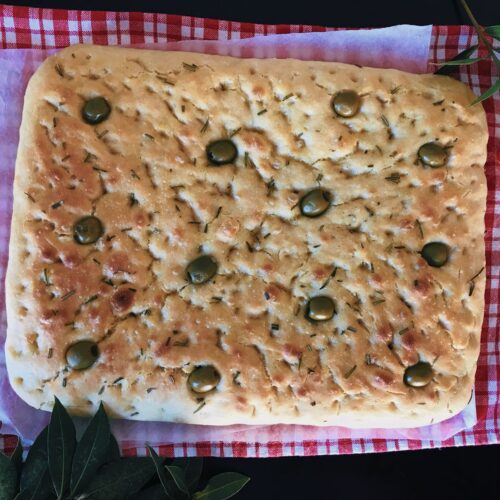 Easy recipe of focaccia
Focaccia dough is made with flour, yeast, salt, olive oil, and water, and is typically topped with olive oil, salt, and rosemary. Once baked, the focaccia has a crispy crust and a soft, fluffy interior. Focaccia is a versatile bread that can be enjoyed at any time of day, whether as a snack, an appetizer, or a side dish. Focaccia is perfect for serving alongside a soup or salad, as a side dish with pasta, or as a delicious snack on its own.
Ingredients
15

g

dry yeast

500

g

flour

2

tbsp

oil (for dough)

2

tsp

salt

1

tsp

of sugar

oil to grease the pan

fresh rosemary

olives
Instructions
Dissolve dry yeast in warm water, add salt and sugar and mix thoroughly.

Now add flour, oil and knead the dough.

Continiously "wrap" the dough in the middle.

When the dough is ready, cover with a towel and leave the dough to rest for at least 2 hours.

After 2 hours, transfer the dough to grease the pan with oil. Make holes with your fingers to your liking, adding oil mixed with salt water. Sprinkle with fresh rosemary, add olives.
A bit of history
Italian focaccia has a rich history dating back to ancient Rome, where soldiers on long military campaigns consumed it as a staple food. The flatbread was baked in communal ovens using simple ingredients like flour, water, and olive oil. Over time, focaccia became increasingly popular throughout the Roman Empire, particularly among the lower classes.
As the recipe for focaccia spread throughout Italy, different regions began adding their own unique ingredients and techniques to the bread. For example, Genoa's focaccia traditionally includes onions, while Tuscany's version is often topped with grapes or raisins.
Focaccia was also a favorite among sailors who took it with them on long sea voyages due to its long shelf life. During the Renaissance, the Medici family of Florence helped popularize focaccia among the upper classes by serving it at banquets and social events.
Today, focaccia remains a beloved dish enjoyed by food enthusiasts around the world. Many restaurants and bakeries specialize in different variations of the bread, showcasing its versatility and delicious taste. Despite its evolution over time, focaccia has truly stood the test of time as a culinary masterpiece.
Inspirational Recipes
Needing more inspirational recipes? Make sure to visit our page to see all the new updates. Follow my Facebook and Instagram pages! I'm always sharing my favorite recipes and cooking tips with my followers, and I'd love to have you join in on the fun. So head over to Facebook and Instagram to get in on the action.