Are you ready to take your taste buds on a journey they won't forget? Get ready to indulge in a delicious and creamy potato dish that will leave you wanting more. Creamy crunchy bubble potatoes are crispy on the outside and creamy on the inside, making them the perfect comfort food. With just a few simple ingredients and a bit of corn oil, you can transform plain potatoes into a mouth-watering delicacy. The addition of sweet paprika, salt, and black pepper adds a burst of flavor that will make your taste buds dance. So, grab your apron, let's get cooking, and prepare to experience the ultimate creamy crunchy potatoes!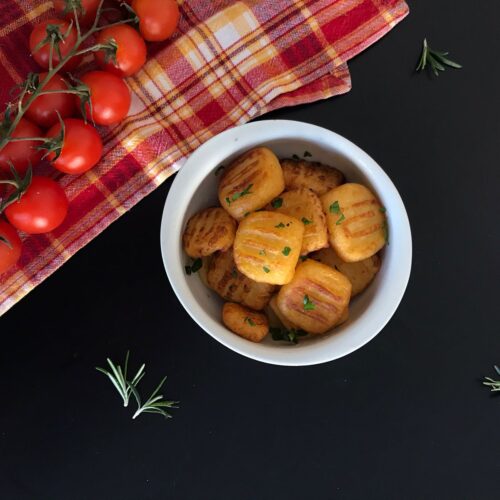 Bubble potatoes
Ingredients
600 g

of potatoes

3 tablespoon

of flour

2 tablespoon

of starch
q.b. of sweet

paprika

q.b. salt

q.b. black pepper
Instructions
Wash and peel the potatoes. Cut into smaller pieces.

Put the potatoes into a deep bowl with water, cook for 30 minutes.

Prick the potatoes with a fork or a large garlic press.

Add flour, starch, salt, pepper, sweet paprika and knead the dough. It should not be too sticky. Add more flour if needed.

Divide a tube of dough into small parts.

Press down on each piece with a fork. To prevent the dough from sticking to the fork, dip it in starch.

Pour a lot of corn or sunflower oil into the pan, fry bubble potato in well-heated oil.
Notes
Don't add too much flour or it won't taste as good. It is better to dust a wooden board with flour so that it does not stick. If you have time, put the dough in the frigger for 10 minutes. There should be a lot of oil so that the bubble potatoes are completely immersed in it. You can use different spice moves. Basil, rosemary, green onion. Listed spices are perfect for potatoes . It all depends on your tastes
Cooking can be a fun and exciting activity, especially when you have access to various recipes that can be easily prepared at home. The recipe for creamy crunchy potatoes is a perfect example of a dish that requires simple ingredients and can be prepared in a short amount of time.
Perfect finger food for a party
The creamy crunchy bubble potatoes dish is a versatile one that can be served in various events and parties. The crispy and creamy texture of the potatoes makes them an excellent side dish to accompany any main course, from roasted meats to grilled vegetables.
If you're hosting a party or gathering, serving creamy crunchy potatoes as a finger food or appetizer is an excellent choice. You can cut the potatoes into bite-sized pieces, skewer them, and serve them with a dipping sauce for a crowd-pleasing dish.
Moreover, the dish can also be a great addition to a casual lunch or dinner with friends or family. Whether it's a backyard barbecue or a cozy indoor gathering, creamy crunchy potatoes are sure to be a hit.
In conclusion, the versatility of creamy crunchy potatoes makes them an ideal dish for any occasion. Whether you're hosting a party or simply enjoying a meal at home, this recipe is easy to make and will satisfy everyone's taste buds. So, next time you're looking for a simple yet delicious recipe to serve, give creamy crunchy potatoes a try and enjoy the compliments from your guests.
Inspirational Recipes
Needing more inspirational recipes? Make sure to visit our page to see all the new updates. Follow my Facebook and Instagram pages! I'm always sharing my favorite recipes and cooking tips with my followers, and I'd love to have you join in on the fun. So head over to Facebook and Instagram to get in on the action.