Bored of the same old dinner routine? Ready to spice things up in the kitchen? Look no further than this tantalizing recipe for risotto with gorgonzola and parmesan! This dish is like a symphony for your taste buds, with the creamy risotto acting as the conductor and the bold flavors of gorgonzola and parmesan cheese taking center stage. This recipe is perfect for those who are looking for something a little more adventurous than the typical weeknight meal. Plus, making risotto is a culinary adventure in itself, with each step requiring your undivided attention and care. By the end of this article, you'll not only have a delicious meal under your belt, but also the confidence and skills to tackle any risotto recipe that comes your way. So let's roll up our sleeves, get our hands dirty, and dive into the world of risotto!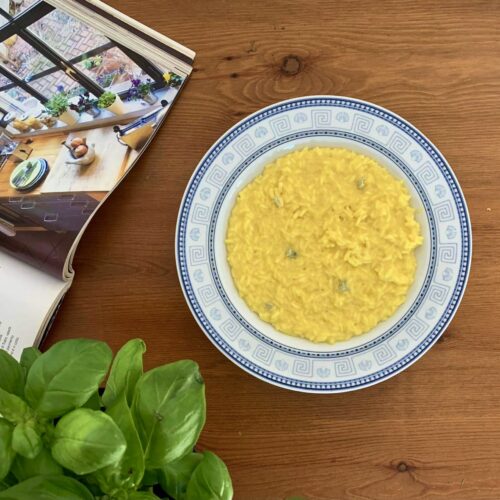 Risotto with gorgonzola and parmezan
Risotto with Gorgonzola and Parmesan is a rich and flavorful Italian dish that is perfect for any occasion. This creamy risotto is infused with the earthy flavors of saffron and the tangy taste of Gorgonzola cheese. Finished with a generous sprinkling of Parmesan cheese, this dish is elevated to new heights of deliciousness. With just the right amount of salt to balance the flavors, this risotto is sure to be a hit with anyone who loves Italian cuisine.
Ingredients
300

g

rice

1

l

water or broth

2

tbsp

gorgonzola

3

tbsp

parmesan

salt

saffron
Instructions
Cut onion, melt a piece of batter on a pan, add the chopped onion to the pan, fry it for 1 minute.

Add the rice, fry it for 2 minutes.

Add water of broth. Dissolve in warm water and add to the rice. Cook it for 25 minutes. Add cheese and stir well.
In conclusion, this recipe for risotto with gorgonzola and parmesan is the perfect way to add a touch of indulgence to your dinner routine. The combination of creamy risotto with the bold flavors of gorgonzola and parmesan cheese creates a dish that is both comforting and flavorful. Whether you're looking to impress your dinner guests or simply want to treat yourself to something special, this recipe is sure to hit the spot. So next time you're in the mood for a culinary adventure, grab your ingredients and get ready to indulge in the deliciousness of risotto with gorgonzola. Your taste buds will thank you!
Follow me
Be sure to сheck our Italian recipes page and follow my Facebook and Instagram pages! I'm always sharing my favorite recipes and cooking tips with my followers, and I'd love to have you join in on the fun. So head over to Facebook and Instagram to get in on the action.
Cover and recipe photos by @sundaycooking