Have you heard of Benderyky? It ios a delightful Ukrainian dish consisting of folded pancakes filled with a savory minced meat mixture. To create this mouthwatering treat, begin by whisking together eggs, flour, milk, sugar, and salt. Once the batter is prepared, cook the pancakes and allow them to cool. In the meantime, combine minced meat, chopped onion, salt, and pepper to make the flavorful filling. Cut the pancakes into halves and fold the edges. Place a teaspoon of the filling onto each pancake half and fold them into triangular shapes, ensuring the ends are sealed. Finally, heat a pan and cook the Benderyky until they acquire a golden crust. These delectable delights are sure to please your taste buds!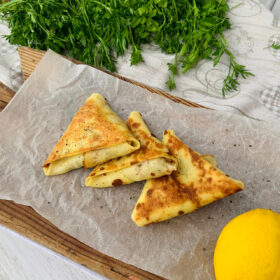 Delicious Triangle Benderyky Recipe
A delightful recipe for Triangle Benderyky—a unique culinary creation that combines fluffy pancakes with a savory minced meat filling. The recipe is easy to follow and promises to deliver a mouthwatering treat that will impress your taste buds. Learn how to prepare the pancake batter, make the flavorful filling, assemble the triangular benderyky, and achieve that perfect golden crust. Get ready to indulge in a delightful fusion of flavors and textures!
Ingredients
2

eggs

100

g

flour

250

ml

milk

10

ml

vegan oil

as needed

salt/black pepper

1

tsp

sugar
Instructions
Mix eggs, flour, milk, sugar, and salt together using a whisk.

Prepare the pancake batter and let it rest.

In the meantime, prepare the filling by combining minced meat, chopped onion, salt, and pepper.

Cut the pancakes in half and fold one edge.

Place one teaspoon of filling onto each pancake half.

Fold the pancake in the shape of a triangle, ensuring the filling is enclosed.

Arrange all the pancakes on a hot pan and cook until they develop a golden crust.
Triangle Benderyky is a culinary masterpiece that brings together the comfort of pancakes and the savory goodness of a minced meat filling. With the provided instructions, you can effortlessly create these delightful triangles of flavor in your own kitchen. Whether it's for a special brunch or a tasty snack, Triangle Benderyky will surely impress your family and friends. Enjoy the satisfaction of biting into the crispy golden crust and savor the delightful blend of textures and flavors. Give this recipe a try and elevate your culinary skills to new heights!