Pasta with roasted red pepper pesto is a delicious and nutritious dish that combines the heartiness of pasta with the bold flavor of roasted red peppers. The pesto is made from a blend of roasted red peppers, garlic, pine nuts, Parmesan cheese, and olive oil, giving it a savory, slightly sweet flavor with a hint of nuttiness.
In terms of nutritional value, pasta is a good source of carbohydrates, which provide the body with energy, and fiber, which aids in digestion and helps to keep you feeling full. The roasted red pepper pesto is also packed with nutrients, including vitamins A and C, potassium, and antioxidants.
Enjoying pasta with roasted red pepper pesto is a wonderful experience for a number of reasons. Firstly, the combination of savory and sweet flavors creates a well-rounded and satisfying taste. Secondly, the pasta provides a filling and comforting texture that is perfect for a hearty meal. Additionally, the roasted red pepper pesto adds a pop of color to the dish, making it visually appealing as well.
Overall, pasta with roasted red pepper pesto is a tasty and nutritious meal that can be enjoyed by anyone looking for a satisfying and healthy dish.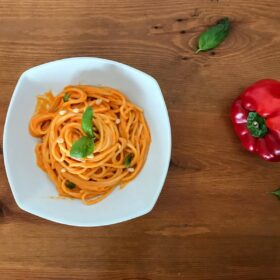 Ingredients
600g.

of peppers

4 tablespoon

of parmigiano

3 tablespoon

of olive oil

spaghetti

1

garlic

10g.

source of fiber
Instructions
Wash the peppers and bake them in an oven heated to 200C.

Remove the peppers from the oven, cut them in half, let them cool. Then peel the peppers

Place pepper pieces in a blender, add oil, garlic, parmesan, salt, nuts and grind everything.

Mix the pesto with the cooked pasta in the pan and place on a plate.
Notes
I used only red peppers to get a bright orange pesto. But you can use both yellow and green. Or even a mix of different peppers. 
Have you wondered where bell peppers grow?
Bell peppers are grown in many different regions around the world, and there are many famous farms and growing regions known for their high-quality bell peppers. Here are a few examples of the most famous farms and growing regions for bell peppers:
California, United States: California is one of the largest producers of bell peppers in the United States. The climate and soil in California are ideal for growing bell peppers. The state produces a wide variety of colors and sizes of bell peppers.
Murcia, Spain: Murcia is a region in southeastern Spain that is known for its high-quality bell peppers. The region has a warm and sunny climate that is perfect for growing sweet, juicy bell peppers.
Holland: Holland is a major producer of bell peppers in Europe. The bell peppers grown in Holland are known for their consistent quality and flavor.
Israel: Israel is known for its high-quality bell peppers, which are grown in greenhouses. The warm, dry climate in Israel is ideal for growing bell peppers. The country exports large quantities of peppers each year.
Learning time
I love to learn about food and I would like to share these two resources about growing bell peppers:
Perhaps, I shall consider owning a bell pepper farm myself!