Lavash with chicken is a delectable and satisfying dish that is perfect for any meal or as a snack. Made with traditional Armenian flatbread, soft and chewy lavash is stuffed with juicy chicken that is seasoned with aromatic herbs and spices. Fresh vegetables such as lettuce, tomato, and cucumber are added to create a perfect balance of flavors and textures.
High in protein, fiber, and essential nutrients, lavash is a nutritious and delicious option that can be easily customized to suit your taste preferences. The dish is often served with a tangy and creamy garlic sauce or hummus, which perfectly complements the flavors of the chicken and vegetables.
Whether you're looking for a quick and easy lunch or a satisfying dinner, lavash is a versatile option that can be customized to your liking. With its delicious taste and nutritional benefits, lavash with chicken is sure to become a new favorite dish for any food lover. Try it today and indulge in a mouth-watering and nutritious meal or snack!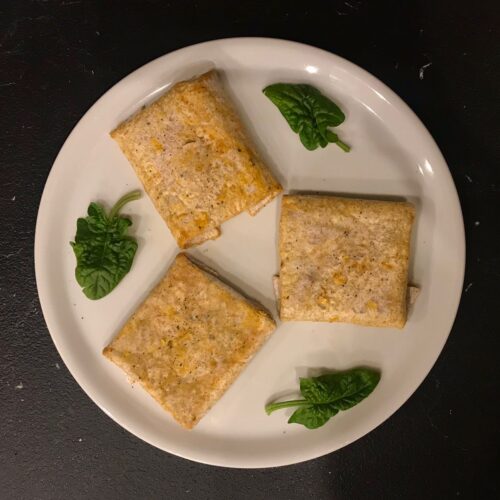 Lavash with chicken, cheese and spinach
Ingredients
150g.

spinach

145g.

of chicken fillet

40g.

of cheese

1

egg

q.b.

black pepper

q.b.

salt

q.b.

oil
Instructions
Wash, dry the spinach and chop the spinach

Degrease the pan and stew the spinach for 4 minutes

Cut the chicken fillet into small pieces

Transfer the sliced ​​fillet to a deep bowl and add the spices and a little oil,mix it all.

Broil for 5 minutes to brown the chicken

Transfer the cooked sprat, chicken and grated cheese to a deep bowl and mix thoroughly

Put the filling on a sheet of pita bread and wrap it in the form of an envelope

Roll in beaten egg with black pepper and fry pita bread for 1 minute
There are several places with lavash on the menu in London:
The Athenian: The Athenian is a popular Greek street food chain with locations throughout London. They offer a dish called Souvlaki Wrap, which is made with chicken souvlaki, tomatoes, onions, and tzatziki sauce, all wrapped up in a warm and fluffy lavash bread.
Pide Kitchen: Pide Kitchen is a Turkish restaurant located in Hackney, East London, that serves a variety of savory and sweet pide (Turkish pizza) and lahmacun (Turkish flatbread). They also offer a dish called "Lavash Wrap," which is filled with chicken, salad, and garlic yogurt sauce.
Anatolia: Anatolia is a Turkish restaurant located in Stoke Newington, North London, that serves a range of traditional Turkish dishes, including lavash. Their version of the dish features grilled chicken, lettuce, tomato, and garlic yogurt sauce, all wrapped up in a warm and delicious lavash bread.