Probably, everyone loves tiramisu, an Italian coffee dessert, and for me it's the most delicious. Firstly, the combination of ingredients used in it, such as mascarpone cheese, espresso, ladyfingers, and cocoa powder, creates a harmonious blend of flavors that are both sweet and bitter. The mascarpone cheese provides creaminess and richness, while the espresso balances the sweetness with a strong coffee flavor. The ladyfingers absorb the espresso and give a delicate texture to the dessert. Lastly, the cocoa powder adds a bittersweet chocolate flavor and a pleasing aesthetic to the dish.
Additionally, the layering technique used in tiramisu allows each flavor to meld together and develop over time. The dessert is typically chilled in the refrigerator, which enhances the flavors and texture. Overall, the combination of flavors, texture, and the layering technique make it a satisfying and enjoyable dessert.
It's cooked without baking but looks very beautiful. Just 20 minutes and you can enjoy this amazing dessert. Surprise your family or friends today! It's impossible to express in words how delicious it is, you shall simply taste it. Let's start cooking! Join me.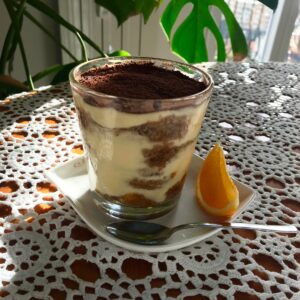 Ingredients
250g

mascarpone

2

eggs

80g

sugar

20

savoiardi

150ml

coffee
Instructions
Separate the yolks from the whites. Mix the yolks with sugar in a bowl with a mixer.

Add mascarpone cheese and mix again with a mixer.

Now beat the egg whites to get a thick foam and add in the mixture. Mix everything with a spoon.

Cut each cookie into 2 halves.

Add sugar to coffee and soak cookies.

Place the cookies in the bottom of the glass, then fill the pastry bag with the cream. Make the next layer of cream and then cookies again. Fill the glass to the top

Sprinkle cocoa on top and put in the fridge for 2 hours.
Healthy tiramisu recipes:
I try to prioritize healthy diet every single day. Here are three websites that feature healthy tiramisu recipes if you are trying to control your diet and eat healthy.
EatingWell.com – Offers healthier versions of classic dishes, including a low-fat tiramisu recipe.
Skinnytaste.com – Focuses on delicious, healthy recipes, including a lightened-up tiramisu recipe.
Delish.com – Provides a variety of healthy dessert recipes, including a healthier tiramisu recipe made with Greek yogurt and almond milk.
These websites are a great resource for anyone looking to enjoy the flavors of tiramisu while still maintaining a healthy diet.
If you want to have a holistic healthy diet , please visit our page with healthy recipes on Sunday Cooking UK.