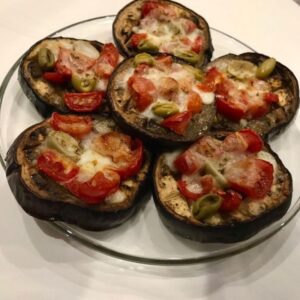 Baked Eggplants
Baked eggplant is a delicious and nutritious vegetable that can be cooked in various ways such as grilled, fried, or baked. Baking is one of the best options because it maintains the nutrients of the eggplant and enhances its sweet and delicate flavor. Baked eggplant is a healthy and light option because it does not require the use of added fats like oil. Furthermore, it can easily be customized with spices and seasonings to your liking. Overall, baked eggplant is a great choice for those who want to eat healthily without sacrificing flavor.
Ingredients
2

eggplants

1

spoon

olive oil

5

cherry tomatoes

oregano

black pepper

2

mozarella

salt
Instructions
To prepare baked eggplants, first wash and dry large eggplants, cut it into slices 1.5 cm thick

Engrave them with a small knife, making a kind of grill, sprinkle with oil and place it on a oven. Cook in an oven preheated to 200 ° for about 10 minutes.

Meanwhile, wash the cherry tomatoes and cut them.

Then put on eggplant slice with cherry tomato, a few pitted olives, add salt and black paper

Remove the eggplants from the oven. Put pieces of mozzarella on the eggplants, sprinkle with oregano

Now put the eggplants in a preheated oven at 200 degrees for 30 minutes. Then take them out.
Now it's time to sit back and relax! Enjoy and send the feedback to us!
If you consider cooking other Italian meals, visit this link to see ideas for other Italian recipes. You may like this super delicious tomato sauce or meet for pizzaiola.