Are you a fan of omelettes and looking for a unique and satisfying breakfast option? Look no further than these mini omelettes! Not only are they quick and easy to prepare, but they are also both healthy and delicious.
When it comes to breakfast, it can be challenging to find a meal that is both satisfying and quick to prepare. Fortunately, these mini omelettes are the perfect solution. Not only can you whip them up in no time, but you can also customize them to your liking, making them a perfect option for even the pickiest eaters.
These mini omelettes are also packed with protein, making them an excellent choice for anyone looking to fuel up for a busy day ahead. Plus, their small size makes them easy to grab on the go, so you can enjoy a nutritious breakfast even on the busiest of mornings.
So, whether you're a fan of classic omelettes or just looking for a new breakfast option, give these mini omelets a try. You won't be disappointed!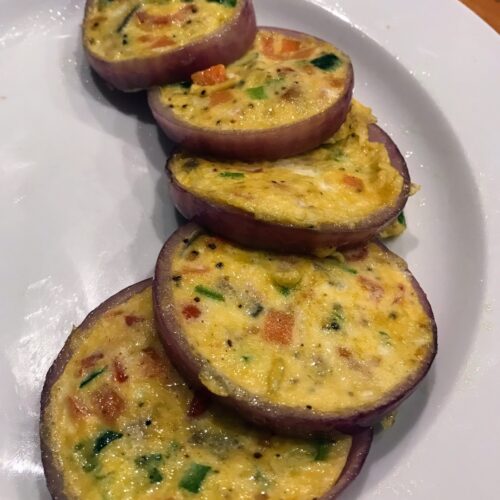 Ingredients
2

spoons of chopped carrots

2

spoons of chopped grean onion

2

spoons of chopped tomatoes

2

spoons of chopped zucchini
Instructions
1. Cut the onion into slices.

Select the outermost rings.

Grate all the vegetables and mix in a bowl.

Add eggs, flour and salt and mix.

Spray the scallions with oil and put the onion rings.

Pour the egg mixture into the rings. Fry on both sides.
Looking to switch up your omelettes game? Try experimenting with different fillings! Cut up some chicken, bell pepper, cucumber, or any other ingredients you have on hand for a tasty and unique omelet.
If you're feeling extra adventurous, why not try a French omelettes? Check out this recipe for a delicious French onion omelettes from https://www.curiouscuisiniere.com/french-onion-omelette/. Or, if you're looking for a classic basic omelettes recipe, look no further than this one from eggs.ca: https://www.eggs.ca/recipes/basic-omelette.
Don't be afraid to mix things up and try new recipes – you never know what delicious omelet creation you might come up with!