Fruit smoothie is very popular in the USA and all over the world. What can be a better option to replenish yourself after a training session? You can make it from fresh or frozen fruits, beating them with a blender, adding yogurt, milk, water or even without it, just fruit. This drink is very healthy and filling. In summer, try adding crushed ice is added.
Here are the key benefits of making fruit smoothies a part of your diet:
Rich in nutrients: Fruits are a good source of vitamins, minerals, and antioxidants, and blending them can help retain these nutrients.
Hydrating: Many fruits contain a high amount of water, making smoothies a great way to hydrate the body.
Convenient: They are a quick and easy way to get a serving of fruit, especially for people with busy lifestyles.
Customizable: A smoothie can be made with a variety of fruits and other ingredients such as milk, yogurt, nuts, and seeds, to create a personalized, nutritious drink.
Supports weight management: They made with low-fat milk, yogurt, and fruits can provide a healthy and satisfying meal without the added calories and fat.
Aids digestion: Blending fruits can help break down the fiber and make it easier for the body to digest.
Boosts energy: The natural sugars in fruit, along with the addition of protein-rich ingredients, can provide a quick energy boost.
So, how to make a great healthy smoothie? Here you go. Step by step instructions:
Fruit Smoothie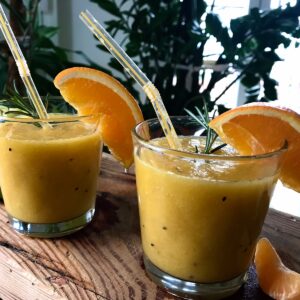 Fruit Smoothie
Ingredients
1

apple

2

oranges

45 ml

honey

2

kiwis
Instructions
Wash, clean and cut the fruits.

Place everything in a long vessel and add honey.

Thin everything with a blender to get fruit puree.

Pour into a glass, and decorate with a slice of orange and a sprig of rosemary. Add a drinking straw and enjoy.
Notes
Experiment with ingredients to find your perfect fruit or vegetable match. Do sports and stay healthy! I hope you enjoyed this recipe.
Sources for other recipes:
If you are in the mood to experiment – here is a link to our Easy & Healthy – Sunday Cooking: London, UK page. And if you are into smoothies, there are some great websites dedicated (almost) exclusively to smoothie recipes! Could there be a more delicious and healthier go-to place? Here is a selection from me:
Wholesome Yum: A low-carb and keto-friendly recipe website with a section dedicated to smoothie recipes.
Oh She Glows: A plant-based recipe blog with smoothie options, including ingredients and step-by-step instructions.
Simple Green Smoothies: A website dedicated to healthy and nutritious smoothie recipes, with options for different dietary needs and preferences.
I encourage to pick the best healthy ingredients for you and create your perfect fruit smoothie. Green, vegetable , high-protein, dairy-free, for weight loss, post-workout, morning , for digestion, low-carb, for energy, for kids or simply tasty smoothie recipes. Start trying and you will find your perfect match.