Fennel is an aromatic herb that is widely used in culinary applications. This herb has a unique flavor profile that is both sweet and refreshing, making it a popular ingredient in many different types of dishes. Whether you are cooking with fennel bulbs, fronds, or seeds, there are countless ways to incorporate this flavorful herb into your cooking.
In this recipe, we will be focusing on fennel bulbs. These bulbs are a great source of dietary fiber, vitamin C, and potassium, and can be cooked in a variety of ways. Our recipe for roasted fennel bulbs is a simple and delicious way to enjoy this flavorful herb. The roasting process brings out the natural sweetness of the fennel, and the addition of Parmesan cheese and breadcrumbs gives the dish a crunchy and savory texture.
Whether you are a seasoned cook or a beginner in the kitchen, this recipe is easy to follow and will yield a delicious and healthy side dish that is perfect for any occasion. So grab some fresh fennel bulbs and let's get started!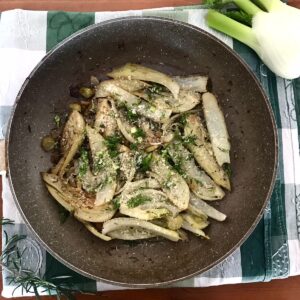 Fennel bulbs
Ingredients
1

fennel

salt

black pepper

2

sage leaves

1

little onion
Instructions
Wash and parts of the stem from the root.

Cut into pieces 1 centimeter thick.

Cut the onion into large pieces. Pour the oil into the pan and add the onion and chopped fennel to the pan. Add chopped sage leaves, black pepper and salt. Now cover and stew.

When the fennel is ready, sprinkle with chopped fennel greens and sprinkle with Parmesan cheese.
If you wonder about how to grow fennel in your garden…
There are many websites that offer guidance on how to grow fennel in your garden. Here are a few examples:
The Old Farmer's Almanac – This website offers a comprehensive guide on how to grow fennel, including information on soil requirements, planting tips, and pest control.
Gardening Know How – This website provides step-by-step instructions on how to grow fennel from seed, as well as tips on how to care for your fennel plants throughout the growing season.
Bonnie Plants – This website offers a wealth of information on growing fennel, including advice on how to harvest and store your fennel bulbs.
Gardener's Supply Company – This website provides a detailed guide on how to grow fennel, including tips on how to plant, care for, and harvest your fennel plants.
Burpee – This website offers a variety of resources on growing fennel, including articles, videos, and guides that cover all aspects of fennel cultivation.
By consulting these websites and following their guidance, you can successfully grow fennel in your garden and enjoy the many culinary and health benefits that this versatile herb has to offer.
If you would like to test more recipes with fennel, please check out this one on our website.