Are you ready to embark on an exciting culinary adventure? If you are a newbie to cooking, there's no better way to dive into the world of flavors and creativity than by trying out new recipes. Today, I want to introduce you to a delightful dish that will spark your enthusiasm and bring a sense of accomplishment to your kitchen. Get ready to discover the joy of making zucchini pancakes with Greek yogurt and greens!
As a newbie to cooking, it's completely normal to feel a mix of excitement and uncertainty when stepping into the kitchen. However, fear not! This recipe for zucchini pancakes is the perfect introduction to your culinary journey. The steps are straightforward, and the ingredients are accessible, ensuring a successful and rewarding cooking experience.
Imagine the joy of grating fresh zucchini, squeezing out excess moisture, and combining it with simple yet essential ingredients. The sizzling sound as the pancakes fry to a beautiful golden brown, releasing a mouthwatering aroma that fills your kitchen. The moment of accomplishment as you place the cooked pancakes on a paper towel, knowing that you've mastered a cooking technique and achieved a crispy texture.
But the excitement doesn't end there! This recipe offers flexibility for you to personalize it according to your preferences. Instead of using wheat flour, you can experiment with rice flour, making it suitable for those with dietary restrictions. And when it comes to serving, you have the freedom to explore different flavors. Whether you choose tangy Greek yogurt or a medley of vibrant greens like green onions, dill, or parsley, the possibilities are endless.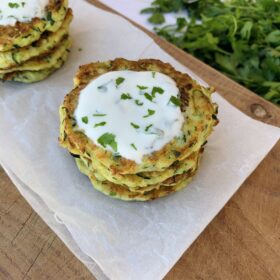 Crispy Zucchini Fritters: A Delightful and Flavorful Side Dish
This recipe for crispy zucchini fritters is a fantastic way to enjoy the natural goodness of zucchini. With a simple preparation process that includes grating, squeezing out excess moisture, and mixing with essential ingredients, these fritters turn out golden and delicious. The combination of grated zucchini, egg, flour, semolina, salt, and pepper creates a delightful flavor and a satisfying texture. Once fried to perfection, these zucchini fritters make for a delightful side dish or a light meal option that will surely impress your taste buds.
Ingredients
For the fritters
1

big zucchini

2

tbsp

flour

1

tbsp

semolina

as needed

salt/pepper
Instructions
Thoroughly wash the zucchini and grate them using a medium grater. Squeeze out as much zucchini juice as possible, as a drier mixture will yield better results.

Next, add the egg, flour, semolina, salt, and pepper to the grated zucchini. Mix all the ingredients thoroughly until well combined.

Now, pour oil into a pan and heat it over medium heat. Once the oil is hot, carefully spoon the zucchini mixture into the pan, forming patties or fritters.

Fry the zucchini fritters on medium heat until they turn golden brown on both sides. Make sure to flip them halfway through the cooking process to ensure even browning.

Remove the fritters from the pan and place them on a plate lined with paper towels to absorb any excess oil. Serve them hot as a delicious side dish or a light meal.
Notes
Immediately place the cooked pancakes on a plate covered with a paper towel to absorb any excess fat.
Instead of wheat flour, you can also use rice flour as a substitute for a gluten-free option.
Serve the pancakes with Greek yogurt and your choice of greens. You can use various greens such as green onions, dill, or parsley, depending on your personal preference and taste.
Cooking is a wonderful journey that allows you to express your creativity while satisfying your taste buds. By trying out this zucchini pancake recipe, you'll gain confidence in the kitchen and delight in the delicious results. Embrace the excitement of being a newbie to cooking, and let this dish be your starting point. Remember, with each step you take, you're honing your skills, discovering new flavors, and creating unforgettable culinary experiences. So, put on your apron, gather your ingredients, and let's embark on this exciting cooking adventure together!
Happy Sunday Cooking 🙂