Making toast is a great opportunity to unleash your imagination and create delicious and healthy combinations. Avocado, in particular, pairs well with a variety of ingredients, such as tomatoes, bananas, cucumbers, different nuts, microgreens, spinach, green apples, fish (especially salmon), arugula, and eggs. The best part? You can whip up these tasty toasts quickly, making them a perfect breakfast option for those in a hurry or an easy addition to your lunchbox.
Avocado toasts are not only delicious, but they are also packed with nutrients, making them an excellent choice for a healthy diet. One of my favorite combinations is avocado with salmon and a poached egg. Trust me, it's a winning combination that you won't regret trying.
In summary, making avocado toast is an easy and creative way to enjoy a healthy and tasty meal. Try different combinations of ingredients to find your favorite, and make sure to add this versatile and delicious food to your daily routine.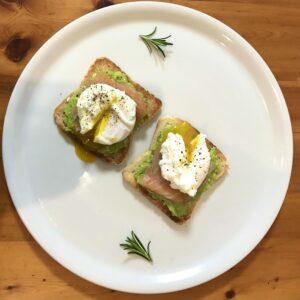 Toast with avocado, poached egg and Salmon
Ingredients
1

avocado

2

pieces of salmon

2

eggs

salt

q.b

black pepper

q.b
Instructions
Pick an avocado with a spoon and mash with a fork to get puree.

Toast the pieces of bread in a pan. The bread should become browned and crispy

Spread avocado puree on toast.

Pleace pieces of salmon on the toast.

Now you have to cook the poached egg. Bring the water to almost a boil and reduce the heat. Carefully pour the eggs into the water and cook for 2 minutes. Place on toast
For the perfect crispy toast, it's best to use bread specifically made for toasting. Additionally, adding a slice of salmon or another fatty fish, like libom, can add a tasty and healthy twist to your meal. Looking for more healthy meal ideas? Check out this delicious and easy fruit smoothie recipe: https://sundaycooking.co.uk/easy-and-healthy/fruit-smoothie/. For more toast inspiration, head over to this recipe for mouth-watering avocado toast on The Spruce Eats: https://www.thespruceeats.com/avocado-toast-4174244.